On the occasion of the World Environment Day and as part of our "SAILING TOGETHER" responsibility programme, Attica Group has successfully completed the third of a series of initiatives aiming to clean the seabed of our islands and protect their marine life.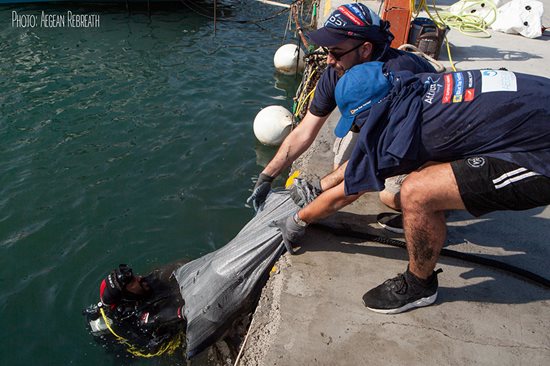 Following our previous activities in Naxos and in Kos, our next destination was Santorini. On Saturday 4th and Sunday 5th of June, our employees along with the volunteers of Aegean Rebreath and in collaboration with the port authority of Thira worked with patience in an effort to clean the Vlychada fishing shelter.
In the course of the action, the volunteer divers collected from the seabed:
834 plastic and synthetic polymers, 39 tyres, 71 pieces of textile, blankets and carpets, 495 metallic objects, 72 glass / ceramics and 5.5 sacks of unidentified plastic objects.
The aim of these actions is to instil volunteerism and cooperation among our employees and raise awareness within the local communities on issues such as environmental protection, circular economy and sustainable development.
In addition to the above, οn Saturday 4th of June, approximately 70 children from the 1st Scout System of Thira and the Nautical Club of Thira were offered a briefing by a volunteer - employee of Attica Group on garbage management and the benefits of recycling and attended a workshop on recycling of plastic by the Athens Makerspace team.
Attica Group is engaged in passenger shipping through SUPERFAST FERRIES, BLUE STAR FERRIES, HELLENIC SEAWAYS and AFRICA MOROCCO LINK operating 34 vessels providing modern, high-quality transportation services in Greece and abroad. Attica's vessels serve 60 unique destinations in 4 countries, connecting 71 ports transporting over 7 million passengers, 1 million passenger vehicles and 400,000 trucks every year.

Kallithea, 1 July 2022